Are you searching for a way to save your business money without sacrificing quality and efficiency? Power Apps gives you the solution!   
Microsoft Power Apps enable you to create customized solutions for your business without requiring prior coding experience.  
So, let's find out exactly how they can help you save your business money:   
1. Job automation  
One of the key ways to save your business money is to automate repetitive and time-consuming, day-to-day tasks such as sending notifications, updating registrations, or initiating approval processes. With Power Apps, you can create custom apps that will replace formerly manual processes, thus reducing working time and saving significant resources.   
2. Custom solutions 
Power Apps is a powerful toolbox for creating tailor-made apps, specific to your exact business needs. This translates into less expenses invested in solutions that don't fully meet your needs. Think of Power Apps as a canvas on which you can design exactly what you imagine. 
3. Non-technical knowledge 
The creation and management of Power Apps does not require specialized programming knowledge. You can thus save your business money significantly, since you don't have to pay any technical experts to develop and maintain your apps. Now it will be a piece of cake for you to create an app!  
4. Internal collaboration & communication 
Proper communication between departments can go a long way in decreasing errors that lead to unnecessary expenses. With Power Apps, you can create apps for internal communication and real-time information sharing between employees. This can also apply to individual departments of your business, such as warehouse or fleet management, to achieve better coordination.  
5. Customer service 
You can create Power Apps that allow your customers to submit support requests, make appointments, or search for information. This not only improves your customers' experience, but also saves you resources on the customer service part. You become better organized, and you respond much more promptly and efficiently to demands (especially from customers, we know well they are high!). 
6. Monitoring performance
With Power Apps, you can save your business money by creating apps to track the performance of your employees. You can create a Power App in which you get a 360-degree view of your business and help you understand key performance indicators (KPIs). This helps you increase the efficiency of your business since you discover which practices are working and which are not, the strengths and weaknesses of your business structure, so you can make the necessary changes.   
7. Project & mission management
Businesses need a central point for managing their multiple projects and tracking the timelines they have set. Use Power Apps to create an app that allows you to monitor the progress of your projects and missions to ensure that each team is achieving its goals and meeting success criteria as planned. Thus, you will no longer waste valuable time and money on constant review.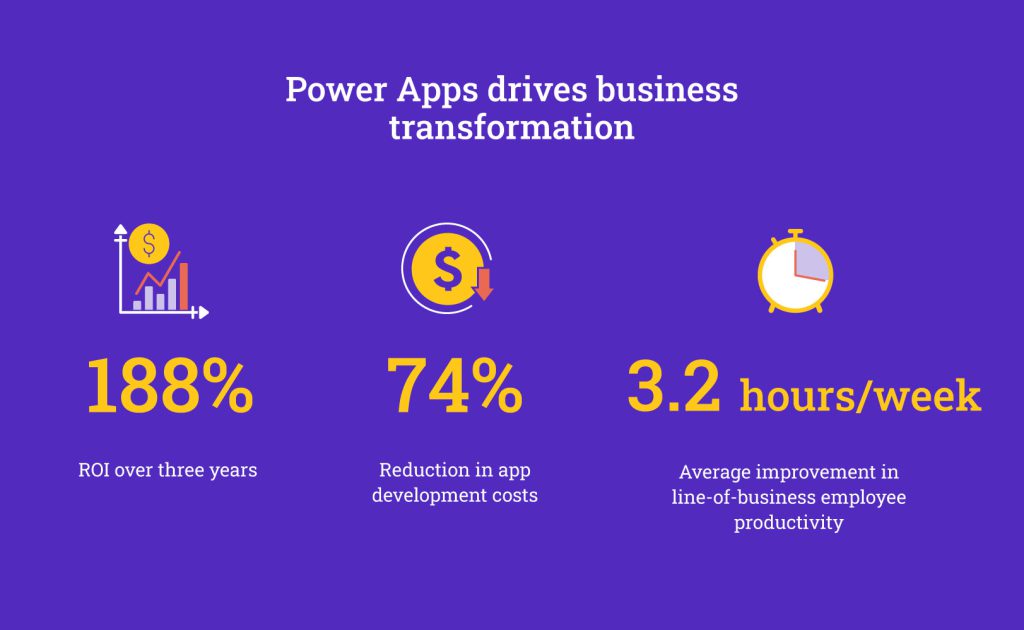 Examples of Power Apps  
Let's see some actual examples of Power Apps available from Microsoft:  
Inventory Management System 

 
Inventory Management System makes it easier for businesses to monitor their inventory levels, in order to properly manage their orders and supply chain.  
Reports provide insights into market trends, customer behavior and competition, allowing businesses to identify opportunities and develop effective strategies.  
The app allows employees to easily submit expense reports, which are then reviewed and approved immediately by their manager or other designated supervisor. 
…and some of the Custom Solutions we have created at NUS Solutions:  
An easy-to-use CRM platform to effectively manage the customer base of growing businesses. It keeps all customer data centralized and organized.  
An integrated platform for complete fleet control. It offers real-time tracking capabilities, fleet analytics and comprehensive reports. 
At NUS Solutions we provide you with the Solution at your fingertips!  
The aim to save your business money is not only about savings, but also about the time spent on each function and overall performance improvement. This is exactly the goal you can achieve with Power Apps technology by your side!   
The world of Power Apps is waiting for you to discover it, and we're here to help you in the first steps. Contact us to design the Custom Solutions that will turn your vision into reality!