Microsoft Power Apps are gaining more and more ground in the modern business world. They provide the ability to create Apps to support and automate specific business functions.   
If you are seeking the digital transformation of your business, they should not be missed from your agenda! So, are you ready to get to know the world of Microsoft Power Apps? 
In this article we will see:
What are Microsoft Power Apps and how do they work? 
Microsoft Power Apps is a platform for developing various Apps, enabling users to create custom business Apps without using any code. It is part of the Microsoft Power Platform, which also includes Microsoft Power BI and Microsoft Power Automate. To create an App for your business in Microsoft Power Apps, you simply need to choose an app template, add your data, and customize the look and feel of your App.   
Microsoft Power Apps is a powerful platform on which you can create apps that will help you improve the efficiency of your business. By using web-based applications, they can automate the operations of your business, replacing paper procedures with digital ones, accessible from any device. If you're searching for a way to create Apps without code, and thus without specialized programming knowledge, it is a great option that will solve your problems!    
For which types of Apps do we choose Microsoft Power Apps? 
Microsoft Power Apps are used to create three main types of applications:   
Canvas Apps 
With Canvas Apps you can create Apps from scratch, as if it were your canvas (as its name also implies) and place each component as you wish. You can add a variety of control elements, incorporating buttons, forms, lists, charts and other features. You can also connect them to data sources such as Microsoft Excel, SharePoint and Dynamics 365, to retrieve and save data. Canvas Apps are ideal for creating custom Apps that meet your business's specific needs, as they offer great flexibility and customization options.  
Model-driven apps  
Model-driven Apps are the perfect choice if you need to create Apps that are already connected to a database, because they use the App's database. Instead of freely placing elements on the canvas like in Canvas Apps, Model-Driven Apps offer pre-designed elements and enable the quick and easy development of Apps that utilize pre-existing data. They provide a lot of possibilities thanks to the data model, as it includes information about relationships between entities, fields and processes, so creating Model-Driven Apps is suitable for cases where data structures are predefined and follow a specific organization.   
Portal Apps
Portal Apps allow you to create external web pages using the data and features from Model-Driven Apps and the Microsoft Power Platform. This gives you the opportunity to create self-service systems or Apps targeted at external customers, allowing them to access and interact with the data and operations without the requirement of web development skills and regardless of whether they have a Power Apps license. Some capabilities that you can provide to external users with Portal Apps are: customer self-service portals, partner portals, or event registration portals.  
Why should you choose Microsoft Power Apps?  
Microsoft Power Apps are an indispensable part of any modern business. The comparative advantages, which rank it as the number 1 digital transformation platform for businesses, are as follows:   
Simplicity  
They enable the development of Apps with little or no code. This means they are easy to use, even if you don't have previous development experience. The Power Apps Studio provides a user-friendly configuration interface, where you can easily select and place elements using drag-and-drop.   
Flexibility  
Microsoft Power Apps is a powerful platform that can be used to create custom applications that meet specific needs. Creators can choose between App types (Canvas Apps, Model-Driven Apps, Portal Apps) and tailor the specific functions.   
Connectivity 
They are part of the Microsoft Power Platform, which means that you can use it with other Microsoft products, such as Microsoft Power BI and Microsoft Power Automate. They also allow you to connect to data from a range of sources, such as SharePoint, Excel, Microsoft 365, SQL Server, Dynamics 365, and thus create single Apps that combine data from multiple sources.  
Accessibility  
Microsoft Power Apps are based on a web browser and can be accessed from a mobile device or tablet. Therefore, they are easily accessible and employees can use their Apps from anywhere.   
Security  
Microsoft has added features to guarantee that the Power Apps are secure and that specific licenses and access rights are issued as required. You have nothing to fear!   
Low cost  
The traditional app development process for businesses requires numerous development tools, high developer skills, a high budget and lots of time. The use of Microsoft Power Apps, on the other hand, offers advantages such as no code maintenance and simplicity, thus low operation costs.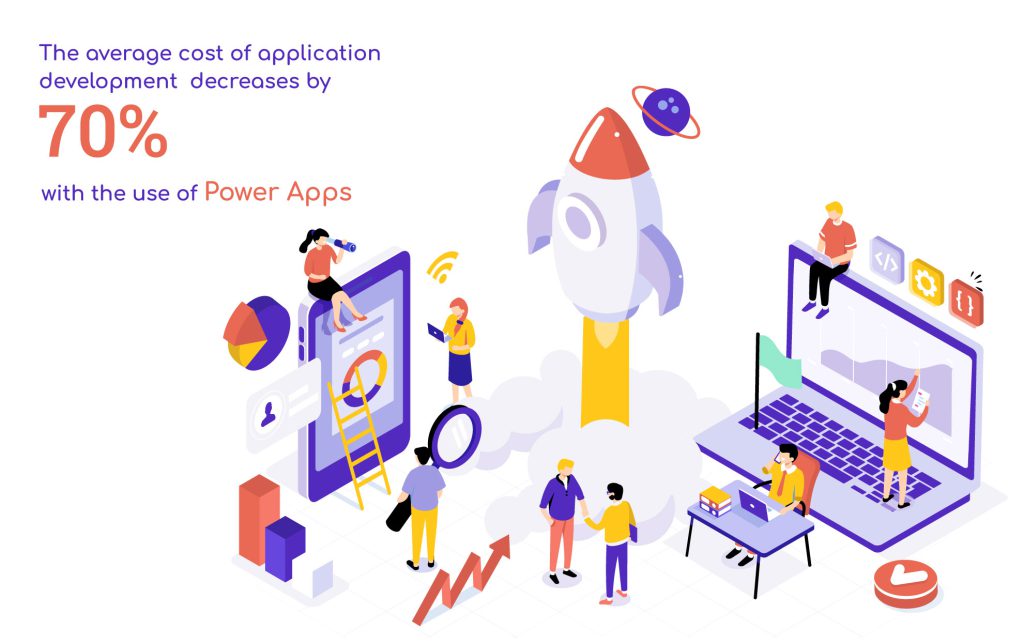 Upgrade your business with Custom Solutions!  
At NUS Solutions we specialize in Microsoft Power Apps, creating customized solutions that simplify your operations, increase efficiency and drive innovation and digital transformation to your business. We can integrate every business need into an App: from the smallest applications, such as a payroll application, to entire CRM management systems with multiple interfaces.   
We've already demonstrated the potential of Microsoft Power Apps across a variety of sectors and helped businesses achieve their ambitions. Some of the Custom Solutions we have implemented include the DataCube App for managing your customer data and the Fleasy App for fleet management. You can also take a closer look at the Solutions we offer and discover their potential for your business!   
We aim to help you stand out and sustain an advanced position in the competitive world of modern business. Contact us so we can show you how we can develop your business with advanced solutions!