In March 2023, Microsoft announced the addition of Copilot to the broader 365 family of applications.   
Leveraging the functionality of Chat GPT 4 and Microsoft Graphs, Dynamics 365 Copilot is designed to integrate seamlessly into Microsoft 365 applications, heralding a New Era that will fundamentally change the way we work and unleash a new surge in productivity.  
We tested Microsoft 365 Copilot in the Customer Service Module and in the following article we analyze its functionality, its capabilities, and our opinion of this innovative tool!  
But let's take things from the start! 
What is Microsoft 365 Copilot?
Microsoft 365 Copilot is a revolutionary AI tool designed by Microsoft to become the personal AI assistant of every business! Specifically, the main purpose of the tool is to automate the data analysis process, making it easier for businesses to extract useful insights based on the data they keep!   
Through its ability to generate comprehensive Reports, identify patterns and calculate KPIs, it has the potential to transform the operational landscape of the businesses that use it, leading them to Data-Driven decisions!  
Specifically, Copilot has been integrated into the world of Microsoft 365 in two ways: 
Integrated with Microsoft 365 applications:

Copilot is going to be tightly integrated with the everyday applications you use, such as Word, Excel, PowerPoint, Outlook, Teams, etc. This comprehensive integration ensures smooth operation and efficient use of Microsoft 365 Copilot without the need for separate installation or additional processes. (Stay tuned for the next article where we discuss the functionality of Copilot in Office 365 tools). 

 

Business Chat:

this is an advanced communication and productivity tool that works seamlessly across your Microsoft Language Model, Microsoft 365 apps and data, including your calendar, emails, chats, documents, meetings and contacts.

 
Why will Microsoft 365 Copilot take your business CRM off the ground? 
Microsoft CRM is certainly one of the most widely used SaaS solutions for storing and managing customer data, which extensively impacts customer loyalty retention. Large Customer Support demands, however, often cause multiple issues, leading to reduced customer satisfaction.   
To address these challenges, Customer Support agents need tools that support the optimization of tasks, whether simple or complex, while offering personalized services that demonstrate their commitment to resolving each issue efficiently.  
If your business is leveraging Microsoft products get ready Microsoft 365 Copilot will be a revolutionary addition to the way you operate!  
The use of this innovative tool is expected to bring new dynamics to users as it will become a full-time AI assistant for every agent, helping them to seek resources that accelerate customer problem resolution, efficiently handle cases and automate time-consuming processes, allowing them to focus on delivering high-quality services to their customers!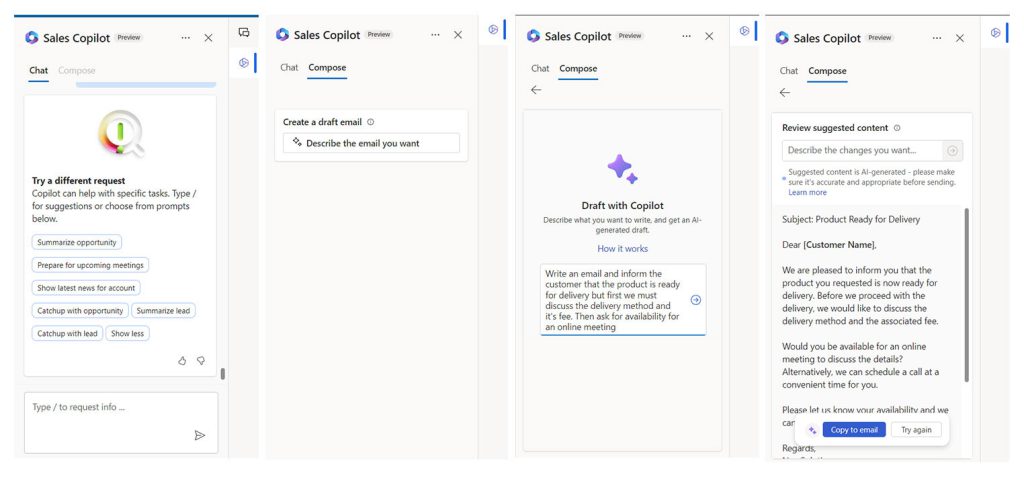 Welcome to the Super Agents era! 
This amazing Microsoft artificial intelligence tool allows agents to create impromptu emails or responses to customer conversations with a simple click! Taking information from the live chat, it searches for relevant information from trusted websites and internal documents. In addition, it looks up databases and previously resolved issues. It then generates a response, which the agent can review and send to the customer.  
For agents who manage email communications, Microsoft 365 Copilot is an invaluable tool for creating personalized responses to customer queries. After Copilot synthesizes the information and suggests a draft email, agents can review and customize the content before sending it to their customers.  
Using their expertise, agents can ask Microsoft 365 Copilot to help identify more complex cases, find solutions, and formulate responses with the appropriate tone to the customer!  
This will help agents drastically reduce the time spent searching for content and drafting responses, providing improved productivity and better customer experience! 
Enhance self-service with the help of AI conversation. 
By leveraging Power Virtual Agents, you not only automate complex processes, but you have the ability to offer a unique Customer Support experience to your customers!  
Power Virtual Agents are powerful chatbots that integrate artificial intelligence for a multitude of requests – from providing simple answers to common questions to solving problems that require complex conversations.  
By leveraging this tool dynamic, customers and employees can "self-serve" by finding answers to their questions more easily by leveraging chatbots that use trustworthy sources of information, such as websites and internal company data, to effectively resolve customer cases.  
In addition, Nuance is announcing new artificial intelligence capabilities in Nuance Mix, enhancing its open, flexible and synthetic Microsoft Digital Contact Center platform. Dynamics 365 Customer Service, combined with Teams, Microsoft Power Platfrom, Nuance and Azure, deliver truly transformative experiences for both agents and customers, creating an end-to-end contact center experience. 
The personal assistant of every Microsoft Marketeer! 
From this analysis we could not leave out the Marketing Module of Dynamics 365! Copilot is expected to take off the functionality of this Module and help Digital Marketing professionals to create highly personalized and targeted Customer Segments by essentially having a "dialogue" with the platform! All this, by referencing their customer data and using natural language.  
The new features we will find in the platform: 
Creation of new segments and management of complex calculations:

Dynamic Marketeers will now have the ability to describe – by writing down their need to create Target Segments! The rest will be handled by Copilot. 

 

Management of complex calculations:

Following on from the previous capability, Copilot will have the ability to look up the customer database and by composing complex processes, match and recommend customers with similar profiles.

 

Creative Suggestions:

Yes, you read it correctly! This is a real assistant, who will not hesitate to suggest creative ideas for new email campaign content. All you have to do is view a simple request. 

 

Reporting:

Microsoft 365 Copilot is also there to perform a dynamic report based on the data you requested!

 
Microsoft Supply Chain Center and Microsoft 365 Copilot: the new dynamics in Supply Chain! 
The integration of the tool is going to be a key factor in service quality, as it is expected to help businesses avoid delays and sales losses!  
In particular:  
Microsoft Supply Chain Center:

an AI-powered assistant that helps supply chain planners prevent and reduce disruptions. 

 

Weather Notifications:

by monitoring external factors such as weather, fuel economy and distance, it provides detailed notifications to users to anticipate situations that will affect supply chain, orders, materials, inventory, carriers and distribution networks. 

 

Decision-making:

supply chain planners can then use this information to take action to reduce disruption, such as changing shipment destinations, expediting orders, or working with suppliers to secure additional inventory. 

 

Create automated emails: 

Microsoft 365 Copilot can now notify immediate stakeholders of the disruption. This allows supply chain planners to quickly communicate with partners and keep them informed of the situation.

 
We tried Microsoft 365 Copilot, and this is our opinion! 
Although it seems to be in a very early stage, Microsoft 365 Copilot has already shaken things up since its launch!   
At the moment, we would describe its functionality as quite limited and immature to provide Microsoft's promising solutions. Nevertheless, AI has proven that it is here to stay in our lives. What does this mean in practice? AI is not just for technology experts. Copilot is not just a product, but a way to reduce costs and grow your profits! 
Discover the power of Microsoft 365 Copilot! 
With the power of artificial intelligence and automation, Microsoft 365 Copilot paves the way for more creative and efficient work. Don't waste any more time. At NUS Solutions we can help you discover the future of your business with the family of Microsoft 365 Apps. All you need is to contact us!